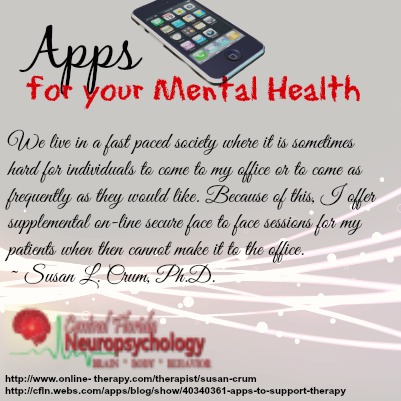 Apps to Support Therapy
While I thoroughly enjoy face to face sessions with my patients as we partner to help them brainstorm solutions to the life challenges they are facing, we live in a fast paced society where it is sometimes hard for individuals to come to my office or to come as frequently as they would like. Because of this, I offer supplemental on-line secure face to face sessions for my patients when then cannot make it to the office. In addition, for those who regularly use smart phones, I recommend a range of mental health apps that can keep them on track in between sessions. For those who are interested, here are some you may want to check out.
BellyBio Interactive Breathing for the I phone is a simple biofeedback device which monitors your breathing and plays sounds similar to ocean waves when your relax. This is a great tool for patients who have learned to use diaphragmatic breathing to alleviate their anxiety and stress.
Also for the iphone Previdence is an assessment tools that allows you to check for symptoms of depression, anxiety, relationship issues, drug and alcohol issues, and other problems and makes recommendations for action which we can then follow up on in our next session.
For individuals with PTSD, I suggest PTSD coach which is helpful for symptoms of combat related post traumatic stress. This is available for both iphones and androids.
A good tool for those struggling with anxiety is Mindshift which is also available for both the iphone and androids. This app teaches relaxation skills, helps you develop new thought patterns and suggests healthy activities. It is particularly good for youth.
Positive Action Jackpot is an augmented reality tool that combines pleasant event scheduling, which is a behavioral health therapy for depression with activities in our location mapped via GPS. Sorry iphone users, this is only available for Androids.
One difficulty many of my patient's have is taking time to relax; and if they do they often don't know how to relax and instead just fall asleep. If this describes you, I suggest Take a Break! Guided Meditations for Stress Relief. This free aps lets you listen to a seven-minute Work Break or to a 13 minute Stress Relief Break either with or without music. It is available for both the iphone and for androids.
Veterans and current military may wish to consider Operation Reach Out. This app which is available for both the iphone and Androids was developed by the military. It provides recorded videos and menu options to help you evaluate your thinking and reach out for help when in crisis.
Relax with Andrew Johnson Lite provides guided meditation sessions for relaxation which helps with sleep, anxiety and stress. It is available for both the iphone and for androids.
Relax and Sleep well with Glenn Harold provides a twenty minute guided mediation with music that you can use to help fall asleep. This app is also available for both the iphone and for android.
The SAM App (Self-Help for Anxiety Management) developed by the University of West England helps you track your anxiety levels and provides a useful toolkit for management of anxiety.
T2 Mood Tracker helps you track symptoms of depression, anxiety, traumatic brain injury, PTSD, stress and general well-being. It provides useful charts for you to share with your therapist
e CBT Calm is an app that provides a set of tools to help you evaluate personal stress and anxiety, challenge distorted thoughts, and learn relaxation skills that have been scientifically validated in research on Cognitive Behavioral Thearpy. It gives you useful background and information as well as step by step guides that will keep you moving forward with your progress in between sessions.
Getting enough quality sleep is essential to mental health This app, Deep Sleep with Andrew Johnson, guides you through a progressive muscle relaxation session into sleep
Based on Dialectical Behavior Therapy (DBT) the DBT Diary Card and Skill Coach , this app provides self-help skills, reminders of the therapy principles, and coaching tools for coping. Like all the other apps presented here, this is not intended to replace professional therapy, but to reinforce what you learn in therapy.
With iSleepEasy a calm female voice helps you quell anxieties and take the time to relax and sleep. This app offers separately controlled voice and music tracks, flexible lengths, and an alarm.
Susan L. Crum, Ph.D.
Licensed Psychologist
• Voice: 866-448-1965 Fax: 888-242-1396 
• Mobile: 863-273-3461   
• Address: 4646 Nadena Drive, Sebring, FL 33872 
• Mail: PO Box 7365, Sebring, FL  33872 
• www.cfln.webs.com • [email protected]
• Patient Website:  Crum.carepaths.com
• Online Therapy site http://www.online- therapy.com/therapist/susan-crum