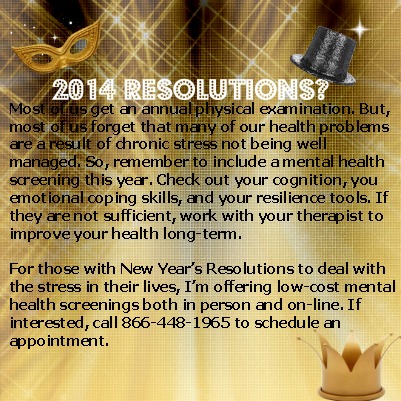 Is Stress Affecting Your Health?
The holidays are over, and many now give a sigh of relief that all the hustle and bustle is at an end. But, one out of four of us continue to struggle with the effects of stress. Many don't even realize it because we hold internalize our stress. Take a moment and see if you may be showing signs of stress. For instance, do you find your heart racing, notice that you are breathing rapidly, perhaps your muscle are tight or your blood pressure is running a bit high. These are all signs of stress.
There are a number sign that you may need some help coping with stress. These include low energy, frequent headaches, upset stomach including diarrhea, constipation, or nausea. Ache, pain and tense muscles are all signs to pay attention to as are insomnia and frequent cold or infections. Loss of sexual desire or ability may also be a red flag. Additionally, ringing in your ears, cold or sweaty hands and feet, nervousness, shaking, dry mouth and difficulty swallowing may all be clues pointing to the effects of stress on your health. In fact, even a clenched jaw, TMJ and teeth grinding can be an effect of stress.
There are cognitive symptoms that are also associated with stress. These include racing thoughts, forgetfulness, disorganization, impaired focus and concentration, as well as poor judgment. You may find it harder to complete tasks on times and more challenging than usual to learn new skills. Behaviorally, you may have noticed changes in your appetite. You may find yourself procrastinating and avoiding responsibilities. You may have increased your consumption of alcohol, drugs (including prescribed medications) or cigarettes. You may also be fidgeting, pacing or engaging in nail biting. You might also notice yourself avoiding social situations. Emotionally , stress can manifest itself in terms of irritability, frustration moodiness. You may feel overwhelmed and having difficulty relaxing or quieting your mind. You may begin to feel lonely, worthless and even depressed.
If you find yourself evidencing signs of stress, pursue help now. While a little occasional stress is not something to worry about, ongoing chronic stress can exacerbate or cause significant health problems. Chronic stress is associated with obesity and eating disorders, it can contribute to cardiovascular disease including heart attacks, high blood pressure and abnormal heart rhythms. It can be a contributing factor in menstrual prolbmes, and contribute to erectile dysfunction and or premature ejaculation. Both hair problems and skin problems such as eczema, acne and psoriasis or alopecia can be caused by stress. GERN, gastritis, ulcerative colitis and irritable colon can also be a function of stress.
So if you want to maintain long term health and are experiencing symptoms of stress, now is the time to pursue help. Your therapist can't wave a magic wand and eliminate the stress in your life because stress is a part of life. But, what affects your mental and physical health are the skills that equip you to handle stress productively. This is where a therapist can be a valuable asset. Instead of giving you a pill for your insomnia or gastritis, your therapist can help you identify which stresses you can eliminate or minimize and how, as well as how to build resilience to the effects of stress and keep yourself emotionally and physically healthy.
Most of us get an annual physical examination. But, most of us forget that many of our health problems are a result of chronic stress not being well managed. So, remember to include a mental health screening this year. Check out your cognition, you emotional coping skills, and your resilience tools. If they are not sufficient, work with your therapist to improve your health long-term.
For those with New Year's Resolutions to deal with the stress in their lives, I'm offering low-cost mental health screenings both in person and on-line. If interested, call 866-448-1965 to schedule an appointment.